How To Retrieve Lost Aadhaar/ Enrolment Number and Download it Easily
Is your Aadhaar card or Enrolment Number Lost? Then you are in the right place.
Misplace of Aadhaar card or Acknowledgement slip is very common due to its small size. UIDAI knew that people would lose their UID/EID and to tackle this problem they came up with an option to Retrieve Lost UID/EID.
In this tutorial, you will know How you can Retrieve your Lost UID/ EID and download duplicate Aadhaar/lost Aadhar card easily.
It is a simple and straightforward procedure so make sure that you follow me Step-by-Step to avoid any problems.
Note – You should have your registered Mobile No. or Email to download Aadhar card.
Steps to Retrieve Lost Aadhaar/ Enrolment Number
1. Head over to UIDAI official website.

2. Click on 'Retrieve Lost or Forgotten EID/UID' under Get Aadhaar section.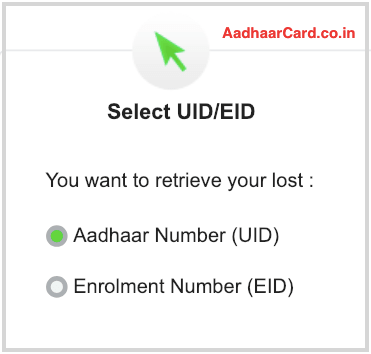 3. If you want to Retrieve your Aadhaar Card number then click on Aadhaar Number(UID), otherwise, if you wish to to Retrieve your Lost Enrolment Number then click on Enrolment Number (EID).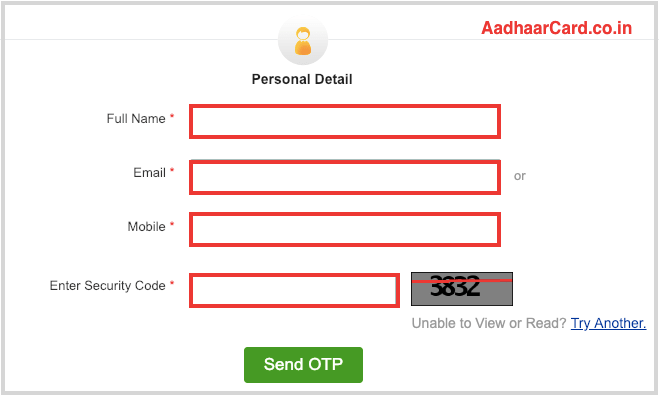 4. Fill your personal details including your full name, registered mobile number or email address and the captcha code.
5. Click on Send OTP, and you will receive an OTP on your registered Mobile or Email ID depending on what you entered.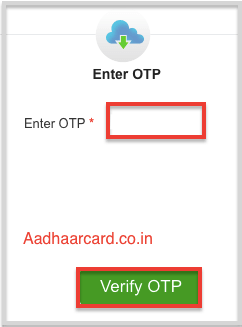 6. Enter your OTP and click on Verify OTP Button and Your Lost Aadhaar/ Enrolment Number will be sent to your Registered Mobile No./ Email ID.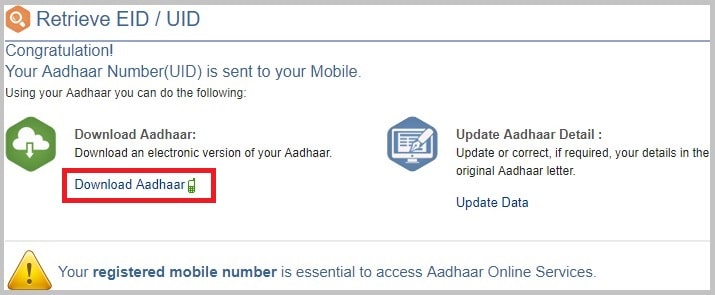 After getting your Aadhar Number or Enrolment ID, you must download your Aadhaar.
7. Below the Congratulation Message, Click on 'Download Aadhaar' which will redirect you to download e Aadhaar page.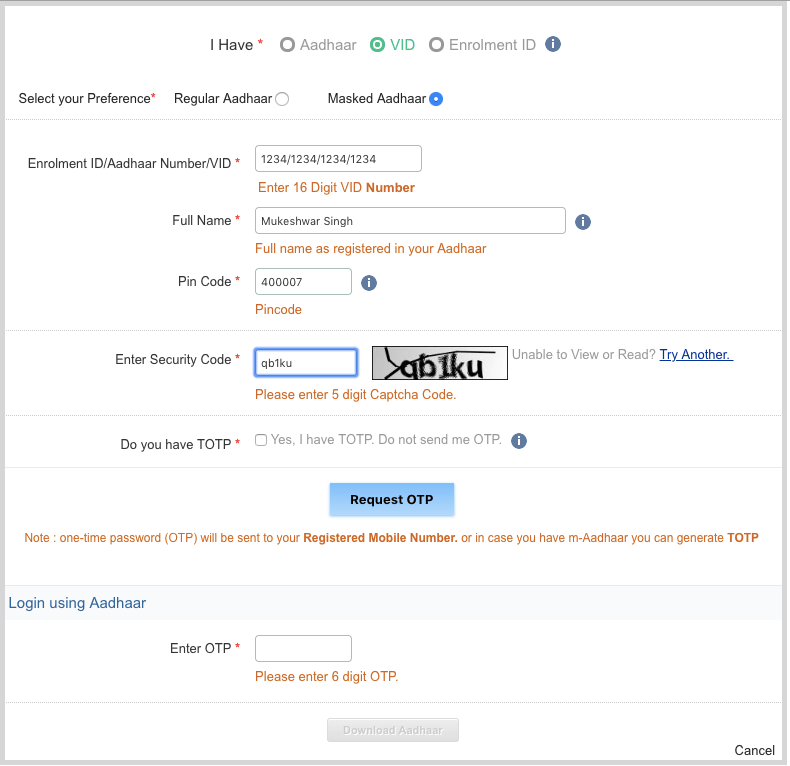 Note – Choose "I Have" as Aadhaar if you have Aadhar No., otherwise, choose Enrolment ID if you have Enrolment No.
8. Enter your details like Aadhar/ Enrolment no., Name, Pin Code and Security code.
9. Click on 'Request OTP.' An OTP will be sent to your registered mobile number.
10. Enter the OTP to download duplicate copy of Aadhaar.
Then you will receive a duplicate copy of your Aadhaar card in recent downloads in pdf file. The PDF file IS password protected.
Password of Aadhaar Card PDF?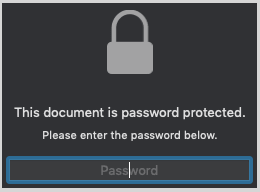 What is the Password of Aadhaar Card Download?
Downloaded duplicate Aadhar Card PDF will be password protected so that only you can open it.
What is your Aadhar card password?
The password of PDF is the Combination of the first four Alphabets of your name (In Captial) and Year of Birth.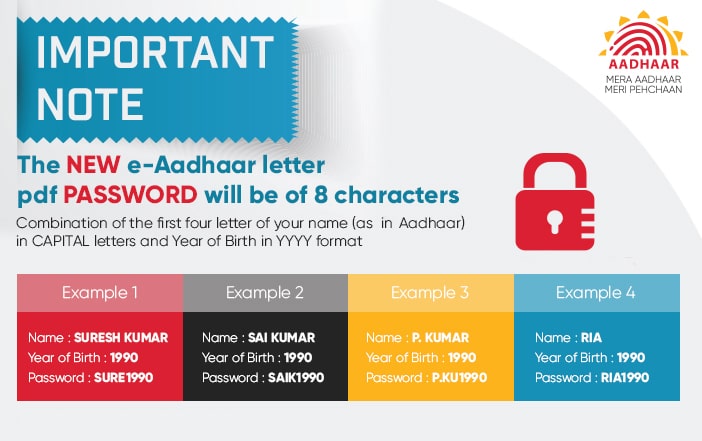 How To Get Duplicate/Lost Aaadhaar Card: HELP CENTER
You can get duplicate Aadhaar Card by just making one call to UIDAI help centre.
Call UIDAI's toll-free number 1947 and follow these simple steps to get duplicate Aadhar Card in just 2 min.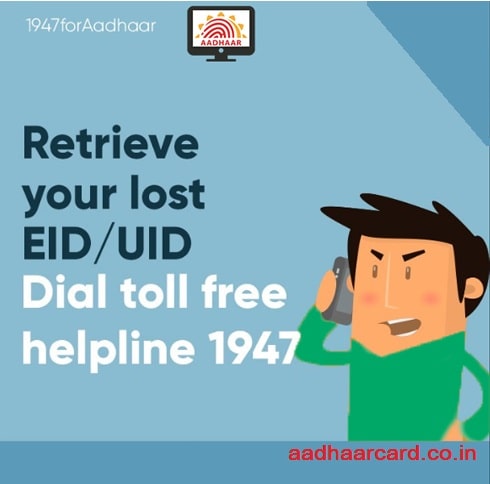 1. Make a call to UIDAI toll-free helpline number 1800-180-1947 or 1947.
2. Choose one language HINDI or ENGLISH.
3. Listen carefully and choose the option to speak with Aadhaar executive.
4. Place a request with the executive for a duplicate copy of your Aadhaar card.
5. Executive will ask you a few questions to verify your identity. Like the name, address and pin code, etc
6. After verification, The executive will accept your request and initiate the process for duplicate Aadhaar card
A duplicate Aadhaar card will be sent to your given residential address by post within 90 days.
How To Get Duplicate/Lost Aadhaar: ENROLLMENT CENTER
In case your mobile number is not linked with Aadhaar card or not working correctly.
You can visit any Aadhaar Enrollment Center and ask for Find Aadhaar Service to get your lost Aadhaar card.
In this tutorial, you will know how to get duplicate Aadhaar card online without mobile number
1: Visit the Aadhar Enrollment centre and ask for Adhaar Correction Form then fill the Aadhaar Correction form.
DOWNLOAD AADHAAR CORRECTION FORM
2: Carry your identity prove with you like Student ID Card, Voter Card, Driving License, Passport, pan card etc
3: Place a request to enrollment officer to issue you a new Aadhaar card because you have lost your previous Aadhar.
4: Enrollment officer will do verification of your biometrics (fingerprints and iris scan)
After the verification, they will approve and forward your request for a duplicate Aadhaar.
Aadhar card will be delivered to your residential address by post within a month or two.
 If you came across a problem, You could raise your question in the comment box below.