How To Change Aadhaar Card Details After Marriage: Surname, Address
Do you want to change or update Aadhaar card details after marriage on your Aadhaar card?
If yes, then you are in the right place.
In this tutorial, you will know how to change your name/surname and address on Aadhaar card after marriage easily.
Most of the times women need to change their names or surnames on Aadhaar after marriage.
After the wedding, women usually have to shift their home, So she also has to change address details on Aadhar card.
Sometimes Mens also shift their homes after getting married or switch jobs, which might result in their address change.
Some may ask is it necessary to change surname after marriage in Aadhar card?
Yes, to acquire many govt. schemes.
It's very simple and easy to change details in Aadhaar card after marriage.
There are four methods by which you can make a change in your Aadhar card after marriage.
1. Through UIDAI official website.
2. Through Enrollment center.
3. Through Post.
4. Through Helpline number.
Update Aadhar card details after marriage: Address Online
Aadhar card address update after marriage online.
Note – All Online Updates are Free of Cost.
1. Visit to UIDAI official Website.
2. Click on Address Update Request (Online) under the Aadhaar Update.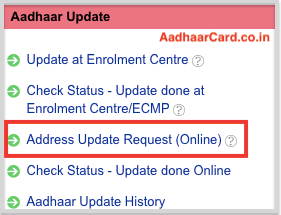 Note – If you don't have a Valid Address Proof to send to UIDAI, then you must follow this Guide otherwise follow these steps given below.
3. Click on Update Address, and you will be redirected to Aadhaar Service Service Update Portal.

#4. Enter your Aadhaar Number/VID, Text Verification(Captcha) and then click on either Send OTP or Enter TOTP based on your preference.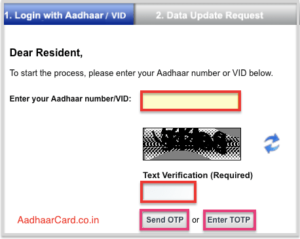 P.S. – Know How to Generate TOTP
5. Tick Mark Have Address Proof and Click on Submit button.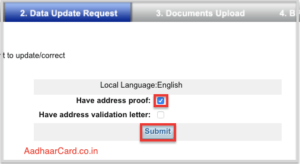 6. Enter Your Address Details according to your Valid Address Proof and click onSubmit Update Request.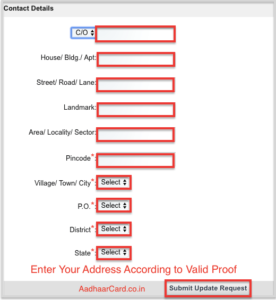 7. Recheck all the information, If you see something wrong in your Address then click on Modify and Change Address otherwise Click Proceed.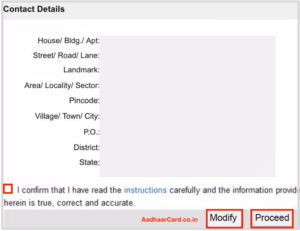 8. Now you have to Browse your Valid Proof of Address from all the options and Click on Upload.

9. Now you will see a Confirmation Dialog which asks you – Have you uploaded the Original Scan Copies? And Is the Document there in the UIDAI Valid Document List.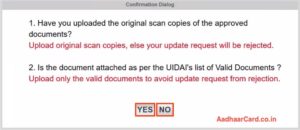 If the answer to both questions is Yes then Click Yes otherwise Click NO and Reupload a New File.
10. Select the BPO Given on the Screen and Click on Submit.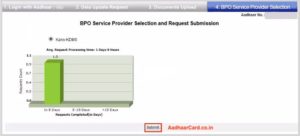 11. Now a Message will appear "Update Request Complete" with the option to Download or Print your Update Request Number(URN).
Once the Update is successfully applied, you can Download the Updated Aadhaar or go for order Aadhaar reprint to get your Aadhaar card with in 5 days.
Note – URN is mandatory to Check the Status of your Update. It is suggested to Download and Print the URN.
After Placing an Update Request, it is very crucial to check the Status of your Update to know whether the Changes have implemented or your Request is rejected.
This Process of Aadhar Address Updation can take up to 60-90 days, but it will be updated in next 5-10 days.
Offline method to update Aadhaar card details after Marriage:
There are three offline methods to update/change Aadhaar details After marriage:
1st: By visiting Aadhaar Enrollment center.
2nd: By sending update request via post.
3rd: By calling to UIDAI call centre.
Change Aadhaar card details through Aadhaar Enrollment centre: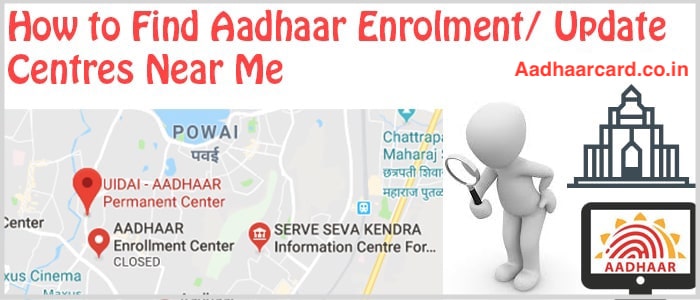 1. Visit nearby Aadhaar Enrollment centre.
2. Ask for Adhaar Correction Form then fill the Aadhaar Correction form.
3. You need to carry original documents, like Marriage certificate, pan card, recent aadhaar card or any other document which you have got after marriage as a proof.
4. Original documents will be scanned and handed back to you after updating.
Fee:
However, if you are visiting an enrolment center for the correction/update you need to pay a fee of Rs 25 each time you get your details updated.
Time Period
As per the UIDAI website, the time period for the updation Aadhaar after is maximum 90 days. Your update request will be verified by the UIDAI representative.
Once your request is approved, you can download your e-Aadhaar by clicking "Download Aadhaar" on uidai.gov.in as mentioned in the above procedure.
For Update of Mobile number/Email ID, only notification will be sent on the given mobile number/email ID.
How to Update Aadhar Card Details through Post:
You can get your Aadhar details updated offline by sending the request through a post to UIDAI office.
Steps involved in this process are:
1. Download the Update Request Form (Aadhar card name change after marriage form pdf).
2. Fill the form in CAPITAL LETTERS and Fill the required details which you wish to change in your Aadhar card.
3. Attach photocopies of self-attested supporting documents with the form that validate the changes requested to be made in the form.
4. Mark the envelope as "Aadhaar Update/Correction" on top.
5. Send the form along with documents to the postal address as mentioned below:
Address 1: UIDAI
Post Box No. 10,
Chhindwara,
Madhya Pradesh – 480001,
India
Address 2: UIDAI
Post Box No. 99,
Banjara Hills,
Hyderabad – 500034,
India
then within 2 weeks, you will receive URN number on your registered mobile number.
CHECK THE STATUS OF YOUR AADHAAR CARD DETAILS CHANGE REQUEST
1. Visit https://resident.uidai.gov.in/check-aadhaar-status
2. Fill the Aadhaar No. and URN – Update Request Number
3. Click on "Get Status."
That's all you have to do!
Then you can see the status of your request for the change in Aadhaar Card Details.
How to change Aadhaar card details after Marriage through Help Centre: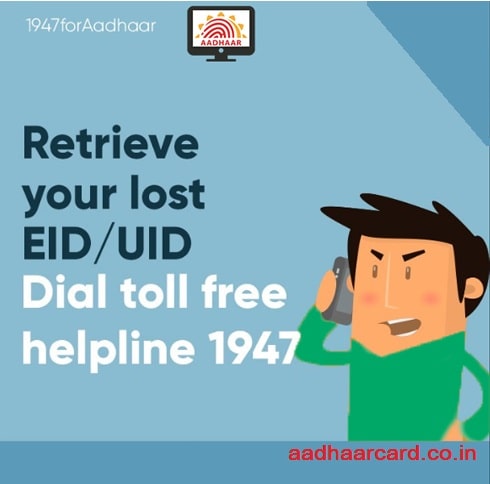 You can update Aadhaar Card after marriage by just making one to UIDAI Toll-free number.
You can call UIDAI's toll-free number 1947 or 1800-180-1947
1. Make a call to UIDAI toll-free helpline number 1800-180-1947 or 1947.
2. Choose one language HINDI or ENGLISH which is comfortable for you.
3. Listen carefully and choose the option to talk with Aadhaar executive.
4. Place a request with the executive to change name/address on Aadhaar card.
5. Executive will ask you a few questions to verify your identity.
6. After verification, the executive will accept your request and initiate the process for updating Aadhaar card
New Aadhaar card will be sent to your mentioned residential address by post within 90 days.
Documents required for name and address change in aadhar card after marriage:
Documents proof for change in Aadhar card after marriage should proof your relation ship or marriage.
Marriage certificate.

document containing proof of marriage of the applicant issued originally by the Marriage Registrar.

Passport

PAN card

Either Ration or PDS Photocard

Voter Identification card

Driving licence of the applicant

Photo identification cards issued by the Government of India

Service photo ID cards that are issued by a PSU

Job card of NREGS

A photo identification that is issued by a Recognised Educational Institution

A licence of Arms

Photo card of the Pensioner

Certificate of Marriage

Photo card of the Freedom Fighter

Passbook of Kisan

Photo card of CGHS

Document containing proof of marriage of the applicant issued originally by the Marriage Registrar

Legally approved name change certificate

ECHS Photocard

Residing Address card of the applicant that contains both the name and the photo that was originally issued by the Department of Posts

Identity Certificate containing the photo of the applicant on a proper letterhead issued by either a Gazetted Officer or a Tehsildar

Either a handicapped medical certificate or a disability Identification card that is issued by either the State Government, the UT Government or any such Administration