Check Aadhaar Linking Status With Bank Easily [Updated] | Online & Offline
Do you want to Check the linking Status of your Aadhaar with Bank?
Then you are in the right place.
By checking the Linking Status you will know whether your Aadhaar is linked to your Bank Account or not!
Well, there are two methods to check the Linking Status.
First is the Online process which requires UID, Registered Mobile No. and Internet Connection.
The second method is an SMS process which only requires your registered mobile number.
Depending on which method you want, you can check the Status of Bank linking with Aadhaar.
Without further ado, Let's get started.
Steps to Check Aadhaar and Bank Linking Status Online
1. Head Over to UIDAI Official Website.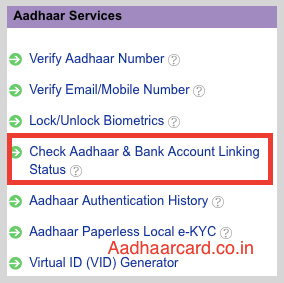 2. Click on Check Aadhaar & Bank Account Linking Status under Aadhaar Services which will redirect you to another page.

3. Enter your UID/ VID number depending on what you gave to your Bank, Enter Security Code and click on Send OTP.
General Note – UID means Aadhaar Card Number whereas VID means Virtual Aadhaar Number.
4. Enter your OTP in the Enter OTP section and click Login Button.

5. If your Aadhaar Card is Linked with your Bank Account then it will show Bank Linking Status as Active otherwise it will show Inactive.
Steps to Check Aadhaar and Bank Linking Status Through Mobile
You can also check Aadhaar and Bank Linking Status Through your Registered Mobile Number.
This process is the simplest and the fastest and only demand your Registered Mobile Number.
1. Call *99*99*1# with your Registered Mobile Number.
2. Enter your Aadhaar Number in the field and Confirm the number
3. If your Aadhaar Number and Registered Mobile Number is correct then your Aadhaar Linking Status will display on the screen.
4. If your Bank is Linked with Your Aadhaar Number then it will show a message "Your Aadhaar Number [Aadhar No.] is Linked with [Bank Name]. Last Updated on [Update Date]"
5. If your Bank is not Linked with your Aadhar Card Number then it will show that your Aadhar Number is not linked, i.e, Inactive.
P.S. – This Status Check will show the Status of your Last Linked Bank Account.
So if you have more than one Bank account then you have to check the  Link Status With your Bank.
And This way you can check your Aadhar Card Link Status with your Bank Account easily.
Q. Is it Compulsory to Link my Bank with my Aadhaar?
A. No, according to Supreme Cour latest orders, you do not need to link Aadhaar with Bank, any online Wallet like Paytm, Mobile etc.