New eKYC Portal – Aadhaar Linking & Track Online
Link Aadhar Without EPFO Portal | EPF UAN Aadhar Linking Online With eKYC Portal | May 2018 – Recently, EPFO has introduced a newer way to link the aadhar number with EPF UAN. where one can link his/her aadhar number online without login to EPFO portal. Here on this article, we'll tell you the benefits and complete procedure.
In previous days, The only way to link aadhar with EPF was to login to Unified Member Portal and then the members have to follow the steps.
How to link Aadhaar With EPF UAN Using eKYC Portal?
The subscriber must visit the official EPFO portal in order to link his/her aadhar. www.epfindia.gov.in
When you are on the main page of EPFO portal you will see a section named "ONLINE SERVICES" where you have to find and click on the "eKYC Portal" to start the further process.

3. Now, you will see a new window showing you the main page of eKYC portal.
4. You must follow the right side of the page where you'll find the Login Section. Right after the login section, you will see a section named "FOR EPFO MEMBER's" which itself contain 2 different links and visitors have to follow the second link named "LINK UAN AADHAAR"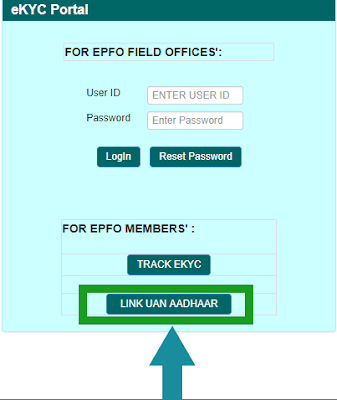 5. A new window will now pop up showing you a new form that every member has to fill in (as shown in the image down below). In this form, there will be different fields that you have to fill.

The above Aadhar Linking FORM will contain these fields:
UAN – The Universal Account Number is mandatory for this procedure. the person cannot link his/her aadhar if the UAN is not available. (To know about your UAN Registration, Login, Activation CLICK HERE)

MOBILE NO (LINKED WITH UAN) – Visitors must provide their mobile number which is registered with the EPFO database, as you will receive an OTP on this. (To change or update your mobile number is EPFO database CLICK HERE)

CONFIRM OTP – The One Time Password will be sent to your number via Text SMS, fill it in the confirm OTP field.

AADHAAR – As usual, the aadhar number is must for this procedure, fill in your aadhar number in given field.
---
Benefits of Linking Aadhar with EPF UAN
★ Connecting or merging the multiple UAN numbers will become easy for you and for EPFO as well.
★ Fewer documents will be necessary as the Aadhaar itself contains all of your identity which is mandatory like Identity Proof & Address Proof.
★ Date of Birth, Name and Address details as well as your photograph will be cover by linking aadhar.
★ While doing withdrawal, it will become easy for Employees Provident Fund Organisation to verify your KYC.
---
How To Track eKYC Aadhar Linking Status
To track the status, visitors must go to the eKYC portal then under the member section you will find an option named "Track eKYC".
Now, a new window will popup showing you some details in which you have you fill in your UAN number to track eKYC.
Fill in your UAN number and hit "Track e KYC"
You can now see the information about your eKYC status.
Note: If the visitor's Aadhaar number is linked but the system shows up some kind of error or mismatch you will see a warning/update information.
---
Errors During EPF Aadhar Linking
Aadhaar authentication failed for epf
Aadhaar authentication failed. aadhaar number name dob or gender mismatch with registered data. epfo
Unexpected error occured. error at the time of aadhaar authentication. epf
invalid gender details for aadhaar authentication. epf
aadhar could not be verified against uan
aadhaar authentication failed in uan portal
aadhaar is not authenticated from UIDAI
If there is any technical problem during the linking process, please email at dd.caiu@epfindia.gov.in for help.