How To Solve Aadhaar Authentication Error / Failed In EPF Online
EPF Portal | Aadhar Linking | Aadhaar Authentication Error | Aadhar Verification | Reasons & Solution – Get complete procedure to solve the issue if you have a complaint that while you trying to Authenticate Aadhar in EPF Portal Online, an error shows up "unexpected error occurred. error at the time of aadhaar authentication. epf"
Nowadays, many complaints are coming from the EPF subscribers that during the time of aadhar linking they face an unexpected error that they don't know why this error is showing up again and again.
So, Here you'll find in-depth details related to this error, we'll cover the reasons that why you are getting this error, on the other side we'll tell you the solutions as well so you'll never have to face this error again during the time of Linking Aadhar With EPF UAN Online.
What is Aadhar Authentication?
The Aadhar authentication or Aadhar Card Registration is a process that every person has to do by providing his/her biometric & demographic data that is saved in The Central Identities Data Repository (CIDR).
What If My Data Is Not Available With Aadhar Number?
If your data is not available with your Aadhar number, then it will lead you to an error where you will have to face "Aadhar authentication error". Usually, there are few reasons that this happen and some of the reasons are:
Software Issue
Biometric info that is suspicious
The absence of valid documentation etc.
Why You're Getting Aadhaar Authentication Error? Here Are The Two Reasons.
There are mainly two reasons or errors that why you are getting this issue while linking your aadhar with UAN number, So if you have a similar reason or error, you must follow our given steps to resolve this.
But before, let's know what types of errors that people encounter while updating the aadhar details:
ERROR
REASON
Error During Aadhar Authentication In PF Portal
Error that occurs due to authentication failure of Aadhar number in uidai website
Details Mismatch With Registered Details In EPFO
Error that occurs due to mismatch of your data that is registered in EPFO. Like mismatch in details like Name, DOB, DOJ & Gender.
What To Do When Aadhaar Authentication Failed Due To Details Mismatch In EPF Portal?
Our article on How To Solve Aadhaar, Name, DOB & Gender Mismatch In EPF UAN Portal Online will help you to solve this issue if you're facing the error of details mismatch with EPFO.
Steps To Solve Aadhaar Authentication Error In EPF Portal
If the visitor is getting an Aadhar authentication error in EPF portal then he/she must check first, that there Aadhaar Card is verified or not.
Step 1 – To check the verification of your aadhar card the visitor have to go to the official UIDAI portal where they can check their aadhar number.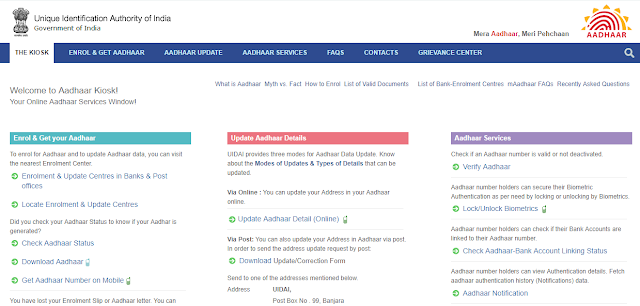 Step 2 – When you are in the main window, Find the "Aadhaar Services" section at the ride side of the page, Here you will find a link named "Verify Aadhar".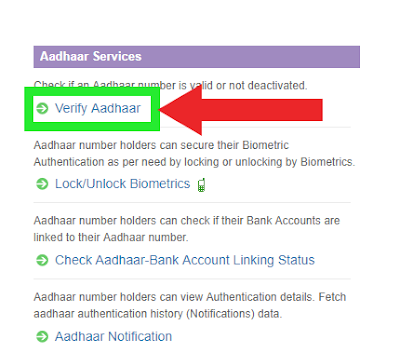 Step 3 – After you clicked on the Verify Aadhar link, A new window will pop up showing you two different fields that you have to fill, in order to check your aadhar number is verified or not.
Aadhar Number – Here the visitor has to fill in their aadhaar number.
Enter Security Code – Here the visitor has to fill in the unique CAPTCHA number showing in a small box right after the security code column.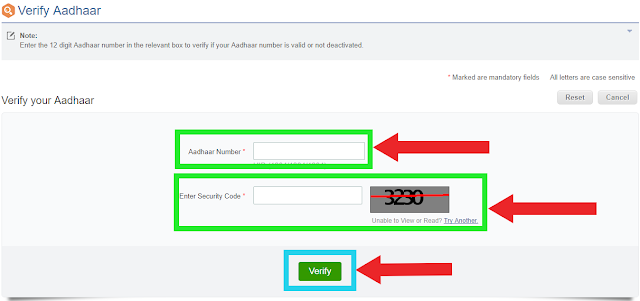 Step 3 – Fill in both mandatory field and hit "Verify". If your Aadhar card is in the activated you will see a message that "Aadhaar Number 12345XXXXXX65 Exists!".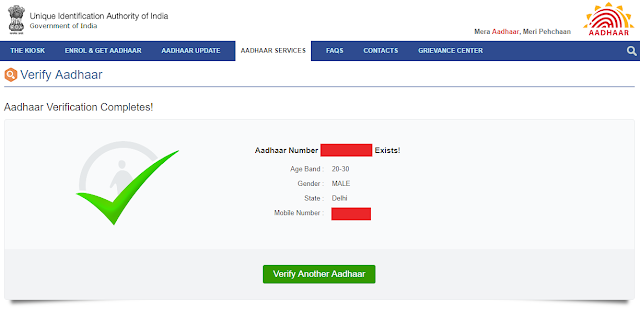 What To Do When Aadhaar Card Is Not Activated?

If you get an error again that your aadhar number does not exist or not activated then you must go to any Aadhar enrollment centre where you have to show them your proper ID and Address proof.
If you want to register your mobile number as well then provide them with a valid mobile number and pay ₹25. Soon, when the Aadhar number is activated, you can try again to link your Aadhar with your EPF UAN.